The cute and cuddly koala is one of Australia's most well-known (and well-loved) animals. They have a special place in the hearts of Australians and have been a symbol of the country for decades. 

WHAT YOU SHOULD KNOW ABOUT KOALA
Koalas are native to Australia and can only be found in the southeast and eastern parts of the country, along the coastlines of Queensland, New South Wales, South Australia, and Victoria. 
FUN FACTS ABOUT KOALAS
The word koala means 'no water'

and is said to come from the Dharug peoples (whose traditional lands span the area from Parramatta to the Blue Mountains of New South Wales) 

Koalas are called

"koala bears"

because they look like bears. But they're actually marsupials, which means that they carry their babies in pouches.

Koalas

don't actually drink water

; they get all the moisture they need from the eucalyptus leaves they eat. 

Koalas are extremely

picky eaters

. In fact, they only eat two types of eucalyptus leaves!

Koalas are mostly nocturnal, spending most of the day sleeping in trees. They

sleep for up to 18 hours per day

. It's important for them to conserve energy when possible, as they burn through calories quickly just by existing!

The oldest koala alive is

Midori

who is at least 25 years old and lives in Awaji Farm Park. England Hill, Japan.
FLATOUTBEAR KOALA
Our FLATOUTbear Koala has been a hit since day one. The koala is a symbol of Australia, and it's no surprise that this little guy is our best-seller.
It's soft and cuddly, yet durable enough to withstand years of hugs and snuggles. Made from 100% Australian sheepskin and tested to meet Australian, NZ, USA, EU, and UK children's toy safety requirements (CE tested).
Perfect gift for newborns, kids of all ages, and even grown-ups. It's for any occasion—birthdays or holidays. It comes in two sizes.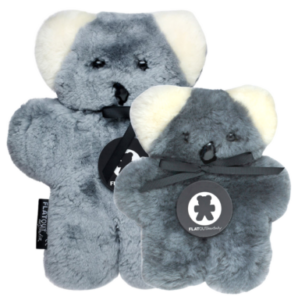 FLATOUTbear Koala 30cm tall x 25cm wide x 5cm flat
FLATOUTbear Baby Koala 18cm tall x 16cm wide x 4cm flat
See other colours of FLATOUTbear here. 
SANDY KOALA, QANTAS COLLABORATION
Sandy is cute, cuddly, and a world traveler and we are so excited to bring her to you in partnership with Qantas.
Made from 100% natural Australian sheepskin, Sandy is plush, luxurious, and always up for cuddles. FLATOUTbear x Qantas Sandy Koala will become a best friend and comforter you'll want to take everywhere with you – especially when flying!