Why FLATOUTbear is a great choice.
A teddy bear is a classic toy that has been around for decades. It is a perfect gift for a baby or toddler to help them feel safe and comforted. It can help them learn about the world in a fun way.
When choosing a teddy bear for your baby, there are several things you should look for. You want it to be soft and cuddly, but also durable enough that it will last through all the hugs and snuggles your baby will give it.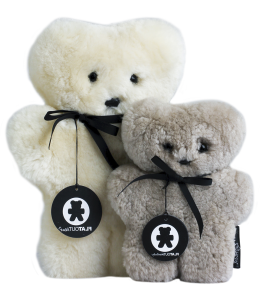 We've listed some reasons why FLATOUTbear is a great choice:
Made from 100% Australian sheepskin
The benefits of sheepskin are endless. Sheepskin is one of nature's most perfect materials for a baby's sensitive skin. t's warm, soft, and comfortable- keeping your baby's body temperature just right for a restful night's sleep. Sheepskin is also durable enough to last for years. Read more about the benefits of sheepskin for babies here.
Unique and handmade
Each bear is made by hand and this makes each one is incredibly special. No two bears are alike, so you can be sure that your bear is one of a kind.
Soft, cuddly and FLAT
Softest and cuddliest bears you'll ever meet! They have no stuffing that can be harmful to your babies, so you can rest easy every time they play with their new friend!
Meet safety standards
FLATOUTbears have been tested to meet Australian, NZ, USA, EU and UK children's toy safety requirements.
FLATOUTbears are a great choice for those who need a little comfort and security. It comes in a variety of colours including Koala and Leopard. See our complete collection here.
It comes in two sizes – original and baby, which are perfect for kids and adults alike. The baby size measures 30cm tall x 25cm wide x 5cm flat, while the original size measures 18cm tall x 16cm wide x 4cm flat.
All things considered, FLATOUTbear makes a great gift for any child, no matter their age and gender. Parents looking for an unconventional toy that will give their children a safe haven throughout their childhood should definitely consider these gorgeous flat bears.