Cotton – The Only Choice for Baby Wraps
Are you confused about the best fabric types for your baby? As a new parent, there are so many things you need to learn. Thankfully choosing the right fabric for your baby is pretty simple.
There is one fabric that you can't go wrong with – cotton.
Cotton as a natural fibre is great for your newborn because it provides aeration and breathability for your baby's skin! Since it's a natural fabric, cotton is also non-allergenic and great for asthmatic babies (it doesn't release any matter that triggers asthma).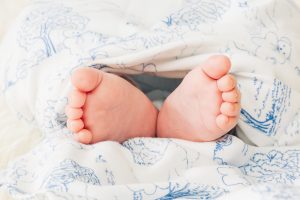 100% cotton Muslin is very popular for baby wraps and swaddles. Muslin is breathable, lightweight, great for layering whilst also thermoregulating, soft and the list goes on and on. Muslin is just a type of criss-cross weave called 'plain weave' that makes it ultra-breathable and perfect for babies.
Jersey knit is yet another cotton variation that's great for the softness and breathability of cotton but remaining stretchy. It can be used all year round and the soft stretch allows babies movement while still being firmly comforted.
Our beautiful FLATOUTbear Toile de Jouy wraps are made of 100% cotton. We have two weights – muslin and jersey. They are available in three lovely colours, Rose Pink, Traditional Blue and Neutral Grey. 
Wrap up your baby in style with these beautiful wraps.