How to Swaddle Your Baby and Newborn Step by Step
Swaddling is a way to keep your baby warm and calm. The idea behind it is to mimic the environment a baby found in her/his mother's womb. It is one of the most popular ways to help your baby feel safe and secure, as well as help them sleep better.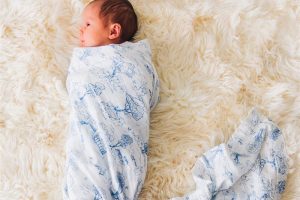 If you're new to swaddling, it can be difficult how to get started. We've put together a handy guide on swaddling your little one, so you can be sure they're as snug as possible all night/day long.
Step 1: When it comes to baby wraps, you must choose the right one for the season. Muslin wraps are best in warmer weather while jersey wraps are best for cold weather.
Step 2: Spread out the baby wrap and fold one corner down
Step 3: Place your baby's head above the fold
Step 4: Wrap one side of the baby wrap over the body, arms inside
Step 5: Tuck the baby wrap underneath your baby
Step 6: Fold up from the bottom. Make sure your baby's legs can bend and that the baby wrap isn't wrapped too tightly
Step 7: Wrap the other side of the blanket across the body and tuck it under
To ensure your baby is safe and comfortable, always lay them on their back when swaddling. Now you can sit back, relax, and know that your little one is covered from head to toe in a soft and 100% cotton baby wrap.