The Ultimate Holiday Gift Guide 2022
It's the most wonderful time of the year! You've got your Christmas tree up, your lights strung around the house, and you're ready to start buying unique gifts for everyone. Don't get overwhelmed!
3 tips for shopping smart this holiday season
) Know your budget and stick to it—don't let yourself go over it, stay focused on what matters most.

) Don't let yourself get overwhelmed by the options—keep your list short and sweet.
) Shop early—less stressed out about late shipping and ending up with nothing
But wait… don't get too excited yet. What if we told you that our FLATOUTbear collection could help you make this Christmas holiday season unforgettable?
Our FLATOUTbear collection makes the perfect holiday present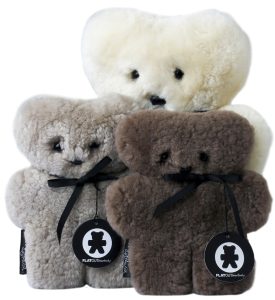 FLATOUTbear
Handmade from 100% Australian sheepskin. Our flat teddy bears are the perfect natural comforter for newborns to grown-ups! Each sheepskin flat bear is unique and handmade. Our flat bears are the softest teddy you'll ever feel, and it's something children can treasure forever. FLATOUTbear makes a wonderful gift for kids at every age. It's sure to be remembered long after Christmas has come and gone. Available in 2 sizes, and a range of colours/patterns. Available colours: Koala, Milk, Latte, Honey, Chocolate, Rosie, Bluey, Leopard, Licorice
FLATOUTbear – 30cm tall x 25cm wide x 5cm flat
FLATOUTbear Baby (mini version) – 18cm tall x 16cm wide x 4cm flat

FLATOUTbear Rug
Luxurious, super soft, and amazingly cute! Uniquely hand-crafted from 100% Australian sheepskin. It is lightweight and has a soft padded back. Our sheepskin rug comes with a handy carry bag, making it perfect for playtime and tummy time at home or on the go! Available in two colours – Milk and Latte. If you've always been a little skeptical about the benefits of sheepskin. We think it's time to give it a chance. Read more here.
85cm tall x 72cm wide

FLATOUTbear Wrap
Wrap your baby with our breathable muslin wraps and stretchy jersey wraps. It is made from 100% cotton, super soft and comfortable for your little one. Both swaddle wraps are multi-purpose. You can use them for everything from swaddling to nursing covers to pram covers to change mats—the list goes on! Learn how to swaddle your newborn and baby step by step, click here.  
Jersey – 120cm x 120cm
Muslin – 115cm x 115cm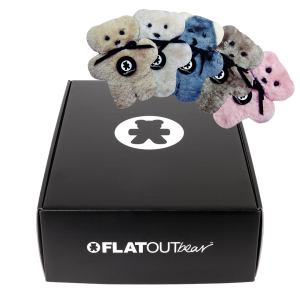 It's the little things that make a big impression.
We'll take care of wrapping your Christmas gift. Finishing it off by boxing it up on our fabulous FLATOUTbear Gift box with a handwritten note on a super cute FLATOUTbear Gift Card so it's ready to go! No matter how hard it may seem to find the perfect gift this year, don't stress! Your kids, friends and loved ones will appreciate whatever you give them, so long as it comes from the heart.
Happy Holidays!