And just like that…our business changed overnight.
It was 2005 and Carrie Bradshaw from Sex and the City had retired her laptop and hung up her Monolos but actor Sarah Jessica Parker, the world's most stylish mum at the time, still had time to send us a super sweet email, thanking us for her FLATOUTbear.
I remember the day clearly – it was 14/6/2005 and Sarah called me in great excitement screaming over the phone that we had an email from Sarah Jessica Parker. Sarah read out this LONG email (below) and we were in disbelief.
Can you imagine, receiving an email from the "it" girl of the moment?
We both screamed with excitement!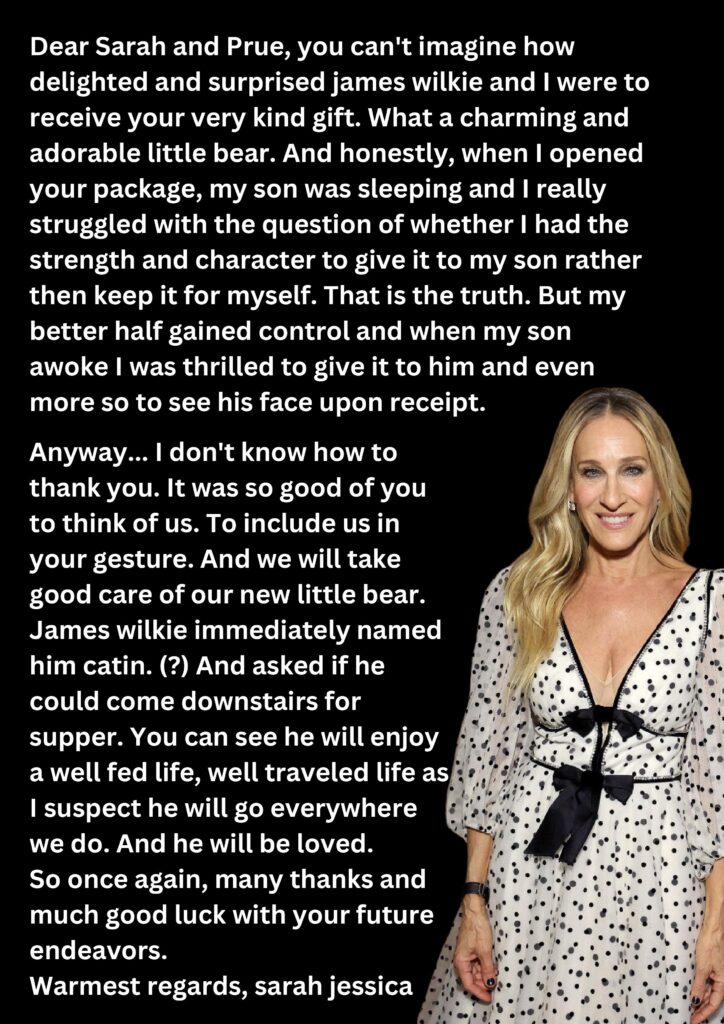 FLATOUTbears was our side hustle at the time. We had decided to send out some bears to celebrities with SJP being one of them just to see if we could get some comments or reactions. This was unheard of back then – this was the days before Instagram and influencers. Well….the reaction of sending them out was amazing. Things snowballed from that email from SJP.
We contacted Australian newspapers and they ran a column about the email and the FLATOUTbears. From then on, we had our stockists collecting garbage bags full of bears to fulfill orders, we were getting dozens of calls every day. It was thrilling.
Afterall, this was Sarah Jessica Parker at the height of her success.
Since that time, we have seen several photos of her well-fed and well-travelled bear on her Instagram feed. Like Carrie Bradshaw always said, "I couldn't help but wonder", if that FLATOUTbear ever truly made its way to her son but she actually kept it for herself.