Jingle bells 🎶, Jingle bells 🎶
As holiday songs play all around us, twinkling lights in red and green, and the warm breeze gently touches our skin, can you believe it's only a few weeks until the best time of the year?
With the holiday season fast approaching, it's time to put together our Christmas gift lists. After all, we want to spread cheer and joy to friends and family, especially the little ones!
We've created this simple gift guide to make your shopping list get done in no time.
FLATOUTbear for everyone
Gift-giving during the holiday season has always been a beautiful tradition.
It's the perfect time to create unforgettable memories and share the warm and magical feeling of Christmas with some FLATOUTbear love.
Gifts under $50
Gift under $100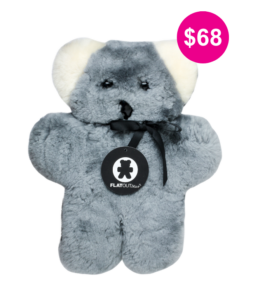 Gifts more than $200

A gift that gives back

Why Choose Natural Material for Gift-Giving
Our flat teddies and rugs are made from 100% Australian sheepskin, while our baby wraps are made from 100% cotton. Here's why these natural materials make great gifts:
Comfort: Sheepskin is warm, cosy, and luxurious, while cotton is soft, breathable, and gentle on baby's skin.

Hypoallergenic: Both cotton and sheepskin are hypoallergenic and suitable for sensitive skin.

Uniqueness: Each piece has a distinct charm that you can't replicate with synthetic materials.

Durability: Sheepskin and cotton are known for their longevity, so your gift will be cherished for years to come.

When is the Best Time to Buy Christmas Presents? 
The ideal time to shop for Christmas gifts depends on your budget, gift choices, and willingness to take part in the holiday rush. Ultimately, what matters most is the love and thought behind your gift.
To help you keep track, download our printable Christmas gift list.
Where to buy FLATOUTbear
You can purchase FLATOUTbear gifts directly from our online store. We ship every Tuesday and Thursday. Alternatively, you can find the nearest stockist in your area.
Before dropping by, we recommend giving the stockist a quick call to ensure the items you want are available.
Explore our newly launched, bear-y special gift boxes.